Magenta Technology integrates with what3words for ultimate location accuracy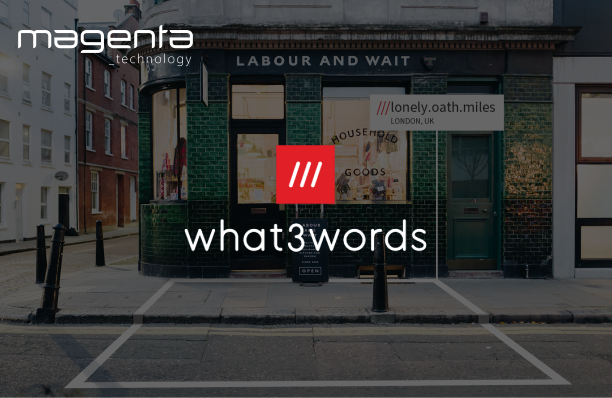 Magenta Technology has integrated its A.I. powered Scheduling and Dispatch system, Echo, with what3words, bringing simple location services with precision accuracy to all of its users.
The partnership means that Echo users can offer their customers the convenience of using a what3words address for their Pick Up and Drop Off destinations, instead of long and often inaccurate traditional street addresses.
Jonny Goldstone, Founder and Co-Managing Director of Green Tomato Cars in London said "With nearly 20 years' experience in the taxi and private hire industry, I've experienced all sorts of problems with poor addressing and 'tricky' locations. From picking customers up at new builds or project sites that aren't formally addressed yet, to rural areas, festivals and large venues – with multiple entrances – such as sports stadia, or hospitals with multiple entrances. And for recovery service bookings, more often than not the passenger is 'somewhere between two junctions on the motorway!' Most of the time, even if we do have a postcode or street address, it can still create a world of confusion when it's pick up time."
"The beauty of what3words for our industry is plain to see, it makes challenging bookings so much smoother for both drivers and customers. We spoke to our product partners at Magenta and they agreed, and we're all delighted that they've now integrated what3words into their system."
"Now, customers can communicate exactly where they are and exactly where they need to go with just three words. Our drivers can find the right place without the need for additional directions, and customers get an even better experience getting from A to B. Not only this, what3words will also help us reduce wasted time and energy driving around looking for the right pick up location or destination, so it's good news for our carbon footprint too!"
what3words is an easy way to identify precise locations. Every 3 metre square on Earth has been given a unique combination of three words: a what3words address. It makes moving around   simpler and drivers no longer have to waste time searching for correct drop-off locations. Whether it's a specific door, shopping mall entrance, street corner or park gate, passengers can enter what3words addresses to enable the fastest possible route planning.
"Our intelligent scheduling and dispatch engine of course relies on accurate data in order to make speedy and accurate decisions. Improving location data using what3words will help to make driving time calculations much more accurate and will make scheduling more efficient as less time will be lost on drivers trying to find passengers."
"Not only that, but with buildings and homes under construction all the time, the what3words method of location pinpointing will take away the pain of inaccurate locations for new addresses as well as already existing difficult to find locations." said Adam Wiltsher, Head of Customer Success at Magenta Technology.
About Magenta Technology
Magenta Technology is a UK based technology company specialising in optimisation and scheduling software for ground transportation. To find out more about Echo and the other solutions available from Magenta Technology, visit www.magenta-technology.com, call +44 (0) 203 880 6174 or email nadia.temple@magenta-technology.com.